News Broadcast Desk Systems



Looking for a beautiful fresh news broadcast desk for your studio? Or maybe you are in need of a video editing desk. Look no further, we have your solution. And if you don't see what you are looking for, we can custom build it for you!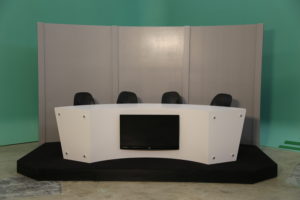 UNISET has a long-standing reputation with News Desks. With over 40+ years of experience in building news studios and broadcast sets, we are prepared to meet the array of design requests and needs. Examples of what we have designed and created are TV news desks, anchor desks, studio set desks, interview desks, broadcast desks talk show desks, TV set desks or a newsroom desks just to name a few.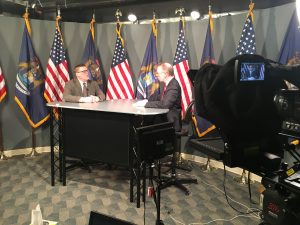 Although the term people use to define a specific news desk has changed throughout the years, one thing has remained consistent. People want a well-made product that is unique and will last years while being visually appealing across multiple shows. It's a challenging balance of pleasing everyone who is using the studio but having the set adaptable enough to ensure that every show doesn't look alike. Even if you have an entirely virtual green screen set, it is advantageous to have a hard set news desk to prevent issues with the talent or in post-production that makes your organization look unprofessional.
When buying a news desk for your studio set, the thought process should start with the following questions:
Do I want one single desk option for my studio or do I want a versatile desk that can incorporate multiple looks? Thinking about the current shows you plan to shoot is equally as important as looking into the future and visualizing how you see the studio growing. You want to make sure you are planning ahead with any investment into your TV Studio Set.

If your production is small and you only foresee the use of one desk with no options to change the size of the desk for more or less talent the next questions to ask are:

What is my budget? (

This is really going to set the precedent of what you can or cannot get for your studio. Does this budget include shipping? Don't forget about shipping, it's often an overlooked and expensive piece of this purchasing puzzle.)

Do I want an anchor desk that is monolithic or airy with open space?

Do I want to be able to incorporate a monitor or a logo on the front of the desk?

Do I want to be able to take this desk on remote shoots or will it be stationary in the studio?

Do I want to be able to change the look or finishes of the news desk or is one permanent finish preferable?

Do I want integrated lights in the base of my news desk?

Is there specific color branding that it required of your organization?

Will I be using this desk in a green screen/ virtual or physical environment?

Is it important to have the ability to change the height of the news desk?

How much space do I have to work with (width and depth)?

If you produce multiple shows in your studio with a different number of talent in each of the unique shows then having a modular easily configurable desk system will probably be ideal for you.

In addition to the questions above you will also want to ask yourself:

What are the different shows that will be using this anchor desk and how many different desk sizes/configurations are desired?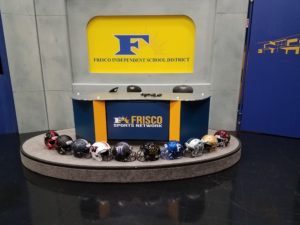 Our vast knowledge of TV Broadcast sets and News desks is how we have designed and manufactured the interview desk systems displayed below. As you take a look at your options keep in mind that everything is customizable, from different finishes and laminates to acrylic tops – you just have to ask.  Remember, if you don't see exactly what you are looking for, we can custom build it for you.
Recommendations:
Small Space News Desk – A or E. Top for Either the NUNS or UNIPRO Anchor Desk
News Desk for Remote Shoots – UNIPRO Broadcast Desk with Mobile Carry Case
"Big thanks to the whole team at Uni-Set. We recently received our Uni-Pro desk system and our talent agrees; it makes our virtual environment feel & look like a real newsroom. We have been looking for a desk to use in our virtual newsroom environment but nothing quite worked until we discovered the Uni-Pro desk system. It allows us the flexibility to quickly change the setup from a single shot to multiple guests. Versatility is key for us and with the Uni-pro system, we can quickly change the look of the desk as well as branding, table top configuration quickly and easily. The team at Uniset were a pleasure to work with; professional, courteous, and always quick to respond with answers to our questions. Again, Thank you."
"Over the past year, however, requests have skyrocketed to additionally produce more traditional talking head and interview-style recordings. Initially, all we needed was a versatile desk setup that could easily be used in any of the three video classrooms. The answer? The NUNS 7 desk. It quickly transports to, sets up, disassembles, and is transported back out of any of our three rooms with ease. It has up to 7 different desk configurations that easily fits whatever management or executives need. One day we may be recording a classroom, the next morning we can set up a NUNS desk configuration for an executive interview recording. Quick and easy."