Unipro Studio System - The complete studio system
The UNIPRO Studio is a free-standing studio system that offers a continuous background with up to three different set identities.
UNISET is the pioneer in pre-finished, modular and versatile set elements for multipurpose television and video production studios. THE UNI-PRO Studio System is the new standard in versatile multipurpose studios. Derived from over 40 years of experience, the UNISET Studio System is up to four (4) "sets" and separate show identities in one (1) continuous background system all while utilizing a pre-finished free standing prefabricated background system with numerous finishes. Consisting of between 30 to 40 linear feet of continual back wall that can be customized by the end user to create their OWN distinct and unique "studio". Custom set design, quality, and finishes but at the most cost-effective price-point in the industry. Contact UNISET now to get started!
The continuous background system consists of separate and distinct sets that achieve show identities that consist of:
A "coffee talk" sit down conversation set
A centered "dedicated" news set
A "standup" with a monitor set
A "virtual environment" with a full UNI-CYC cyclorama (green screen) for virtual set programming
The studio has "flexible" areas located within the background system that can be "custom tailored" to accommodate duratrans, vinyl's, continuous skyline graphics, chroma key surfaces for virtual programming, LED accent lighting, columns of varying finishes, soffits (with/without down lighting), knee wall/chair rail of varying finishes. This is achieved by the Customer interacting with UNISET's Designer on any one or all of the four (4) "sets" and selecting from a pallet of UNISET provided options. Select, Click and voila, the selected surface appears in the designated area. Repeat this exercise in a matter of minutes and you have created your own "studio". Additionally, the customization will enable the end user to add to the selected area their corporate logo, school emblem, municipal/state emblem, city skyline, or any other available artwork and a scenic element that they desire.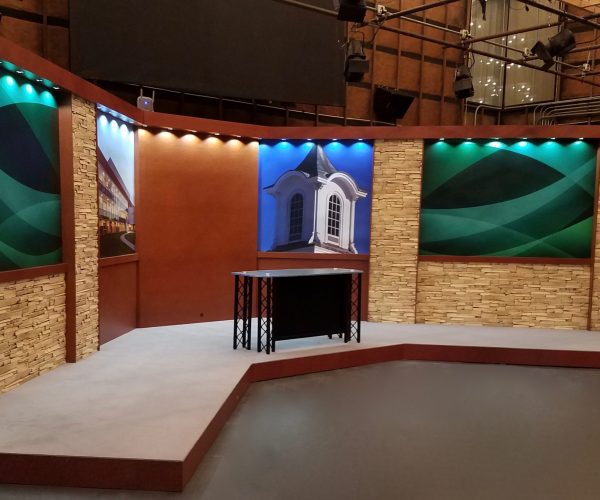 1 continuous background with 3 set identities
Riser system
UNIPRO desk system
Soffit lighting
Light columns
Monitors
Monitor mounts
Custom fabrication

The standard panels and columns that come with the UNIPRO studio can be customized with any of our finishes. If you are looking to customize the structure of the UNIPRO studio, we can help with that as well. please check out our custom fabrication page for more information.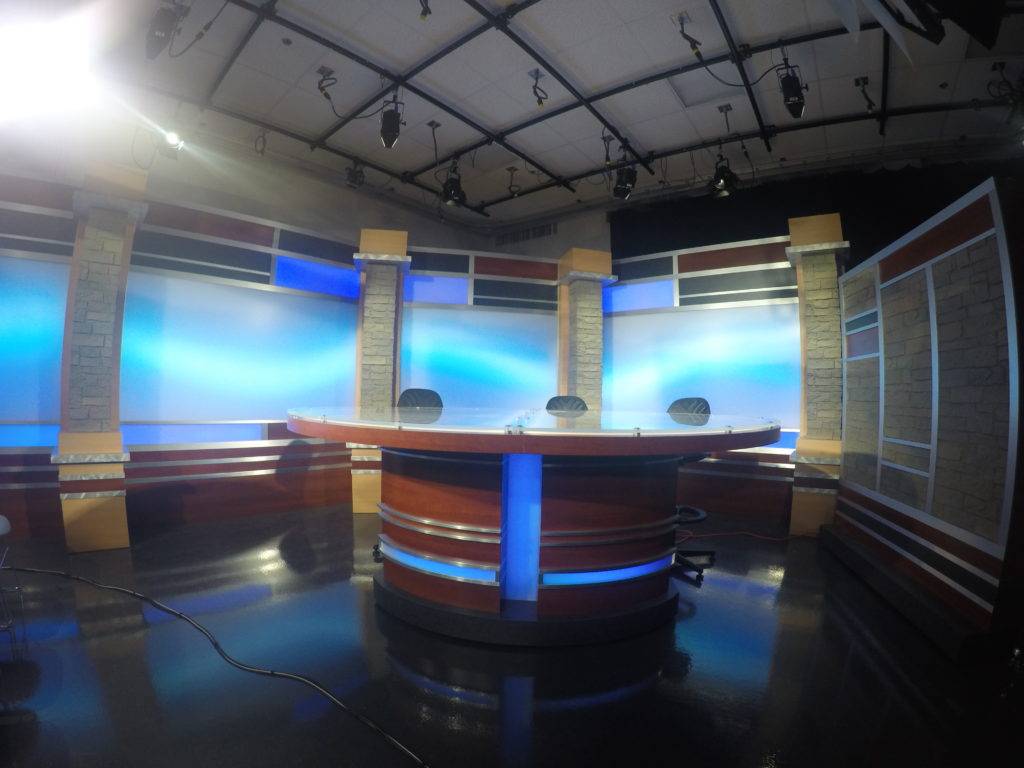 The cost of the UNIPRO studio is dependent on the custom finishes and other additions that you choose. Please contact us to discuss what you are considering and we can give you a more accurate quote.
Full 3 set stage, starting at $50,000